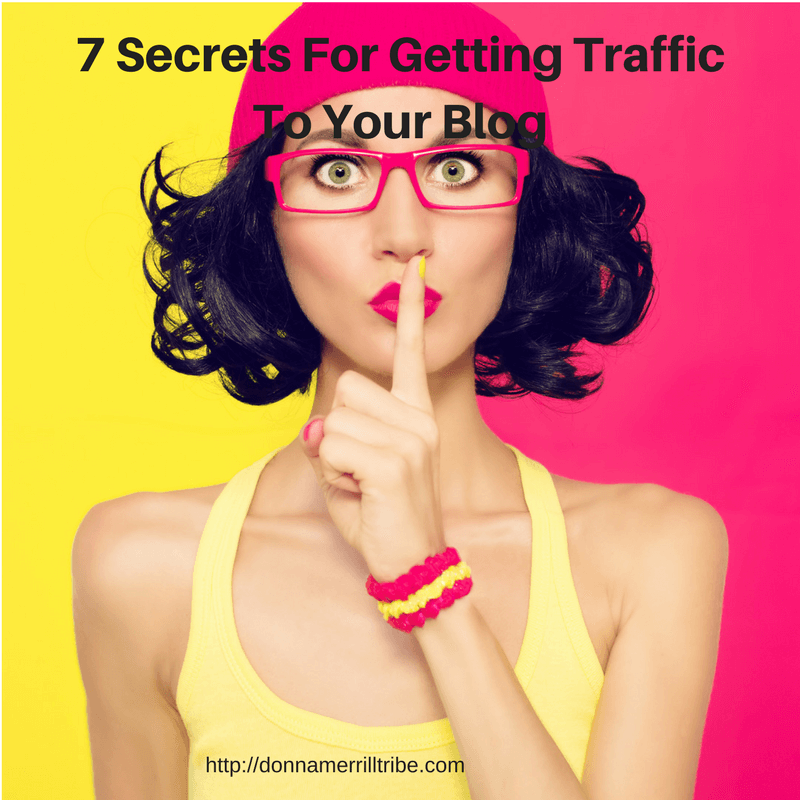 It can be so difficult getting traffic to your blog.
This is a big challenge for new bloggers.
But well established bloggers are always looking to tap into ongoing sources of traffic.
These tips are guaranteed to get traffic flowing to even the most sluggish blogs.
Best of all, you can implement them right away to generate highly targeted traffic to your blog.
7 Secrets For Getting Traffic To Your Blog
Building traffic to your blog may take time.
So, be patient and persistent.
Now, you can't do everything at once.
So carefully consider which tips you want to act on first.
That said, this should always be first for everyone.
1. Publish High Quality Content
Write great content to help others
If your content doesn't help your readers, then don't write it.
Every single thing you put on your blog should improve the lives of your readers.
I list this as the #1 tactic because if you're not doing this, nothing else will work.
There's no negotiating here… you MUST publish ONLY content that helps your readers solve their problems and improve their lives.
2. Establish Congruency
Make sure the title of your blog is congruent to the content.
Don't "promise" that you're going to solve your readers' problems unless you really are.
So don't write a blog title like this…
"3 Ways To Build An Email List"…
If your article then goes on to describe 3 reasons that it's important to have an email list, but never really tells people "how" to build one.
Make bold promises in your blog post title.
That's great.
But only if you deliver what you promise.
3. Create Video Engagement
You want to climb Google's search results ladder, right?
And, you want to connect more personally with your readers.
Embedding videos routinely in your blog posts will accomplish both objectives.
The videos can be of you, facing the camera and talking to your audience.
That is always the best way to create engagement.
If you are camera shy, though, you can do a screen share.
In that case, you could just share a demonstration of something.
Do this while your webcam is capturing your browser, for instance, instead of your face.
The point here is that video helps you engage with your audience.

This will make your blog more popular with the search engines.

Even more though, it will become more popular with your readers.
Increased engagement always leads to an increase in traffic.
And remember, nothing helps you get personal and engaging with your readers than video.
4. Market Your Content
It's not enough to create great content.
Sure, that is the first thing you need to do.
Once that's done, though, you have to get out of your blogging bubble.
In other words, you have to find your readers where they are.
This usually means that you need to get your message out on the big social media sites.
Or on forums, blogs and wherever else your target audience hangs out.
You see, you can't just write great blog posts and wait for people to discover them.
You need to get out of your blogging bubble and put your content in front of your audience.
Share your content routinely and robustly in the places where they can be found.
5. Build Relationships
A big reason for you to get out of your blogging bubble is to start building relationships.
Build relationships with your readers, audience, other bloggers and even prospective business partners.
This kind of activity usually means becoming active on social media sites.
But forums and even leading blogs are also good places to connect.
Being "active" on social media requires that you actively seek people out.
It means that you are actively marketing yourself, your content and your ideas to them.
Be clean and be mindful of the goals you have for your blogging business.

Connect with audiences and individuals who will help you attain them.
You want to do this wisely, though.
If you're posting videos, for instance, you don't want to make them all about you, your blog and your business.
But you want to create authoritative, knowledgeable and entertaining video.
Use "teasers" that interest people and promise a solution to common problems in your niche.
Occasionally, direct them back to your blog.
I use Facebook Live videos to do this.
I actually have gained quite a number of new followers this way.
You can do this, too, either with video, engaging status updates and just by joining ongoing conversations inside of groups and comment threads.
Twitter is also a good place also to connect with blogging "tribes."
Using Twitter hashtags will help you meet so many people in the same niche as you.
All you have to do is start retweeting their posts and you'll be setting the foundation for a strong blogging community.
6. Optimize Your Blog
Make sure your blog doesn't get buried in the avalanche of other sites in your niche.
Practice the best SEO strategies to make your blog search engine friendly.
After all, search engines like Google and Bing can send you tons of free traffic.
But before they do, they need to know that your blog post matches their search queries.
Now, one of the most important SEO tactics to employ is to link to other blogs.
This is a really cool tactic because
you will be linking to other blogs and sites that your readers will appreciate and value
and, you will start building relationships with other site owners and bloggers
So, in the process of optimizing your blog, outbound links can help you
raise your authority level with your readers, and
build meaningful relationships with other bloggers
These are things that will get your blog noticed.
When your blog gets noticed, people start visiting, commenting and following.
Just make sure that you are linking out to really good blogs.
That way, you'll always be
sending your readers to articles that really help them, and
creating and nurturing bonds with high quality bloggers.
7. Comment On Other Blogs
Each time you comment on other blogs, you build your relevance to others.
You also get noticed by people as you build your authority with them.
And you gain valuable backlinks to your own blog.
But you need to do it the right way.
First of all, always be polite.
This may be the most important part of driving traffic to your blog.
Be consistent.
Go to other blogs every day.
Read them.
Leave a meaningful comment.
As long as you comment in a way that acknowledges the author of a blog, and tells him/her what you got out of it, the blogger will be thrilled.
Then take a moment to share their article on social media.
So what do you think is going to happen?
Yes… ding ding ding… they will come to your blog to comment and share, too.
Remember sharing is caring!
When we care about others, it does show in everything we do.
7 Secrets For Getting Traffic To Your Blog
So these are my tips for getting traffic to your blog… or getting more traffic to it.
One thing I should underscore is this…
Blog content does not always mean written text.
People often think of a blog as a written article.
But I have found that video is especially powerful for getting traffic to your blog.
Why do I stress putting videos on your blog?
Because it is interesting for people.
People love to watch other people so live streaming is king of all video types.
It not only shows who you are, but more importantly, shows how you interact with people.
And it all happens in real time.
Live video streaming captures you as you interact with people who are saying "hi" to you, or asking questions or commenting on your ideas.
As you interact with others via live stream video, you are showcasing how you interact with prospective readers of your blog.
Some of them can turn out to be loyal and avid followers.
You also benefit by demonstrating how you teach others.
So, here are my hot bonus tips for getting traffic to your blog…
post videos to YouTube and include them in your blog posts
refer people to your blog via live streaming videos on Facebook, Twitter and even Instagram.
Now, if you're shy about video, just remember this… we all have different personalities.
Keeping this in mind, know that some people will instantly be attracted to who you are and what you share with them.
Your delivery, personality or message may not be a good fit for others, though.
Ergo… You can't please all of the people all of the time.
So don't even try.
Just be yourself.

Which of the above "7 secrets for getting traffic to your blog" is your favorite?
Let me hear from you!
Leave me a comment below, and then share this articles on your favorite social sites.
-Donna