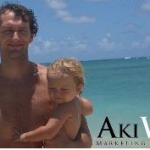 I had a wonderful Google+ Hangout with Aki Wood of the Empower Network a few days back.  I'd love to share it with you here, but… my screen capture software didn't capture it!  I guess we've all had that disappointing experience.
But fear not.
Aki Wood has come to the rescue.
He graciously recorded a video that pretty much goes over everything we had discussed on the hangout.  You'll find it below.
Now, bear in mind that my interview with Aki Wood on the hangout, came about because of an article I wrote some months back called  Why I Left Empower Network.
I pretty much gave my story of joining, then departing Empower Network (EN).
I've had such a tremendous response to that post, and so many questions directed to me from EN members, that I was compelled to update the whole EN story.  You see, since I left the Empower Network, a lot of things have changed over there.  So as people kept asking me questions, I had to update my information to give them intelligent answers.  So this post is, in a sense, an update as to what's going on at Empower Network.
So… nowhere better to turn than to Aki Wood, who not only is a leading figure at EN, but an extremely lucid and thorough spokesperson for it.
Now as you watch his video explanation of the current business model that EN offers, bear in mind a few things.
First, Aki did this video as a favor to me since I screwed up the recording of the hangout.  So I'd like to thank him for that.  It really goes to show the dedication he has to making sure people get the true story of EN.
Second, because it was a follow up to our interview, he focused on the discussion we had on the hangout.
In particular, I told him that many people have asked my if it makes sense for them to join EN if they can really only afford the $25 entry level.
He responds to that concern very thoroughly, and by the way… the short answer is to get in on whatever level you can.  But get in.
Empower Network is an extremely powerful platform and offers an incredible built-in sales funnel that takes many marketers years to develop, if they ever do.  You can have it done for you in minutes when you join in.
Now remember, I'm not an Empower Network member.  So I'm not selling you anything here, and I don't have any affiliate links to anything.  But I will tell you, if you have any interest in joining EN now, or after watching Aki's video below… then the place I would personally recommend you jump in, or just cruise around to learn a lot more, is at EmpowerNetworkPimp.com.  He not only shows you around the EN platform, but he shows you clearly how to work the business and create profits from its high-converting, built-in sales funnel.
There's just one more thing I'd like to point out before letting you enjoy (and you really will!) Aki's video below.
EN has had some problems as a major internet business.  But it has maintained the center of it's existence through it all.  The visionaries who run the company (Dave and Dave, or course… and Aki… and others)… have not given in to negativity.  In fact, EN just continues to grow.  I have every expectation that their growth has really just begun.
That's because they have a good business model… but also because they have invested their heart and soul in the mission they've developed..
You see, I was under the impression that Empower Network was essentially a money making platform… what folks call "a business opportunity".  But Aki has convinced me that it really is primarily a personal development one.
Money is money.  But your heart must be the center of your life.  You are capable of doing wonderful things, but you need to unleash that capability.  The is the heart and soul of the EN mission, as I learned from Aki.
If you don't have the vision or skills to create the life you truly desire, then EN may very well be transformational in your life.
Hey, it's already had a profound impact on mine, just by talking with people who are… and I'm not even "in".  Imagine if I were.  Hmmmm.
I would enjoy your input on this subject.
Blessings, Donna
P.S. Thank you Aki Wood for visiting my first blog and taking the time to help me answer so many questions people had.  Meeting you was a great experience because you, my friend, come from your sincere heart.